Product description:
A sidewall conveyor belt is one of the most effective ways of elevating materials in a confined space, the economy is achieved by single belt operation, a wide range of material can be handled, less space requirement, no transfer point, low maintenance, and big capacity. A corrugated sidewall belt can be designed into a set of complete transportation system according to application.
Specification of Sidewall Belt

Belt width:300-2400mm
Annual production capacity:50000m
Belt strength:250-6000N/mm
Cleat height:35-600mm Capacity range :0-6000m³/h
Vertical lift height: 1-500m
Hot Vulcanization Assembling
Sidewall, cleat, and base belt are jointed through twice low-temperature hot vulcanization, which ensures high adhesion value, flatten, and no fall off. And the adhesion value won't be influenced by high-temperature material.
PARAMETER
Cross Rigid Base Belt、Sidewalls: The Complete Range、Cleat Range
Product Cross Rigid Base Belt
XE: This belt incorporates the cross rigid ply in the tensioning ply, mainly used for medium-duty applications.
XE+2:The cross rigid and tensioning plies are separate, in this case, the belt has 2 cross-stabilizing plies, application areas are medium to heavy.
XE+SC+2: This belt incorporates textile tensioning plies with steel cord cross rigid members. The high lateral stiffness means the belt can be used in application areas where rigidity is an important factor, i.e. High lift heights and wide belts.
XST-SC: This belt incorporates steel cord tensioning with steel cord cross-stabilizing m, embers. Height tensile strength can be achieved making the belt ideal for high vertical lift applications.
Note: Above are standard belt strength, others available for special order. When the belt strength is over 1250N/mm, an XST-SC type base belt is suggested.
SideWall Specification:
We take creative innovation on the manufacturing technology of corrugated sidewall, based on the usage of it. Fabric insertion is to increase the tear-resistant and tensile strength, which increase the lift of the sidewall and ensuring maximum durability.
Cover Rubber Qualities
(1)Black Standard High Abrasion Resistant
(2)Black Oil and Fat Resistant.
(3)Heat Resistant to 100°C
(4)High Heat Resistant to 130°C
(5)flame retardant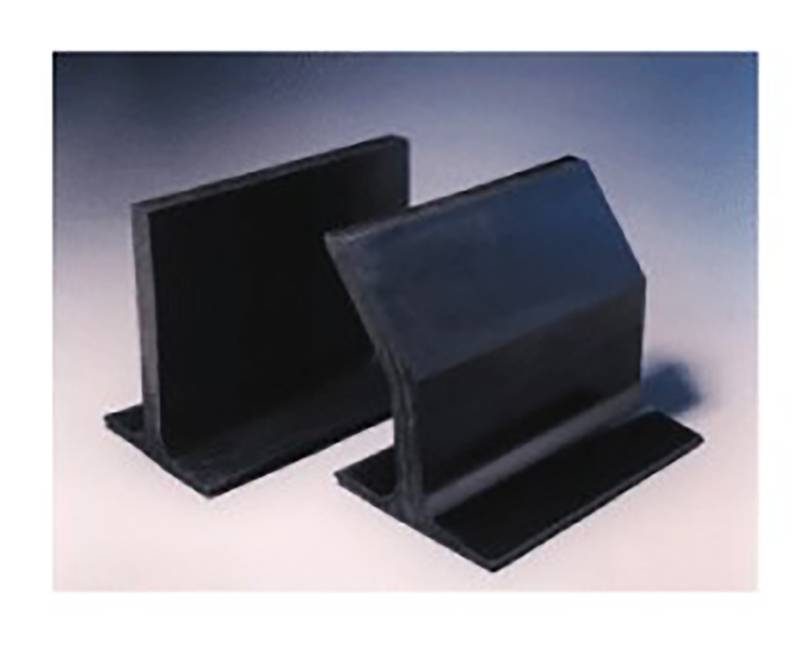 Our cleat is made of a special rubber compound, with good features of impact resistance and hardness to avoid cleat distortion. Under the high-wearing conditions, cleat blades can be fixed onto the cleat base by screwing for convenient maintenance.
T cleat is normally used up to 40° conveyor angle C, TC and TCS are normally used from 40° to 90°. To avoid material leak from the gap between cleats and sidewalls, the cleats should be positioned to be the right sidewall corrugation for screwing reinforcement.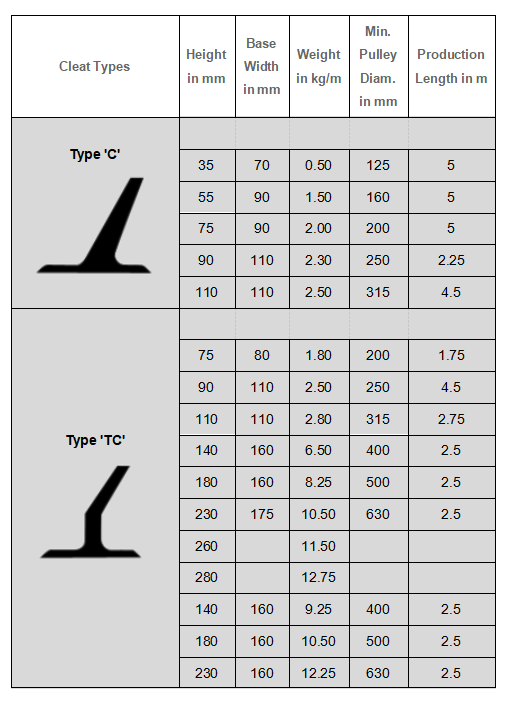 Application Sidewall Conveyor Belt:
Shipping